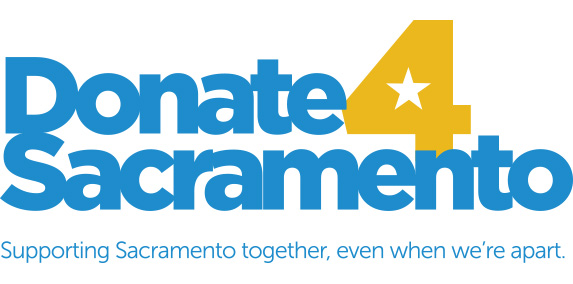 Total pledged amounts and donations = $1,762,119
Total amount distributed = $1,555,788
Donate4Sacramento COVID-19 Regional Response Fund
In the weeks and months ahead, the impact of the COVID-19 pandemic will continue to present enormous challenges to the personal and professional lives of all who call the Sacramento region home. What has become clear during this national health emergency is that some of us are better positioned to manage these unprecedented changes than others. We know the crisis is having an even more challenging impact on small businesses, lower-wage workers and their families, and nonprofit organizations.
"We are grateful for the support to help maintain the ability to serve our community and look out for our staff and their families."

-Leo Hickman, owner of Classy Hippie Tea Co., Oak Park.
Public, private, labor and nonprofit leaders throughout the Sacramento region have joined forces to raise both awareness of what we as a community are confronting and resources that are dedicated to help vulnerable populations and small businesses.
Our goal is to raise $1.5 million in private contributions to support the City of Sacramento's $1.5 million investment. Our mission is to ensure families, individuals and businesses receive assistance for essential supplies, food, rent, utilities and other needs. In short, we plan to do what Sacramentans always do in times of crisis – pull together and demonstrate the incredible power of a community that cares for all of its members.
Donate4Sacramento funding awards
We call on you to join us by becoming a supporter of Donate4Sacramento.
More information for donors and potential recipients (.pdf)
Please donate generously. You may choose to have your contribution used in one of five ways:
Support for Families. This funding adds to the United Way California Capital Region's COVID-19 Local Relief Fund to provide childcare, meals, rental assistance and other essential resources for families whose lives have been disrupted by the COVID-19 outbreak.
Support for Small Businesses. This support will mitigate the impact of COVID-19 on small businesses and their employees. The Small Business Fund is operated by Sacramento Asian Pacific Chamber of Commerce in partnership with a cohort of Sacramento's ethnic chambers, the Metro Chamber and seven Property and Business Improvement Districts.
Services for Our Unhoused Neighbors. Providing services through area nonprofits to unhoused Sacramentans, such as emergency shelters, hygiene stations and other solutions to meet their needs.
Nonprofit Support. This funding will be distributed through the Sacramento Region Community Foundation's Disaster Relief Fund, which will rapidly deploy flexible resources to nonprofits working with communities impacted by COVID-19.
General Support. Flexible funding to provide support beyond the areas identified above and wherever it is most needed.
If you would like to mail a check:
Make the check out to Sierra Health Foundation: Center for Health Program Management
Write Donate4Sacramento in the memo line
Optional: Complete this donation form to identify how your donation will be applied and include with your check
Mail to:
The Center at Sierra Health Foundation
c/o Donate4Sacramento
1321 Garden Highway
Sacramento, CA 95833
Sierra Health Foundation: Center for Health Program Management is a 501(c)(3) tax-exempt organization with EIN number 45-5282243. Your donation may qualify for an income tax deduction in accordance with federal and/or state income tax laws. Please consult with your tax adviser.
Contributing Partners:
Sierra Health Foundation
Health Net
Ford Motor Company Fund
The California Wellness Foundation
Patricia and George Lytal Family
Comcast
U.S. Bank
AT&T
Verizon
Axiom Advisors
Helene and David Taylor Family
Intel Corporation
Sacramento Association of REALTORS
Teichert Foundation
Rombauer Vineyards
Shelter in Pace, The Social Distance Series
Sacramento Kings
Stuart Foundation
Anonymous
Family Foundation
Founding Partners:
Office of Congresswoman Doris Matsui
Office of Congressman Ami Bera
Office of California State Senator Dr. Richard Pan
Office of Assemblymember Kevin McCarty
City of Sacramento
County of Sacramento
Greater Sacramento Economic Council
Sacramento Area Congregations Together
Sacramento Asian Pacific Chamber of Commerce
Sacramento Black Chamber of Commerce
Sacramento Central Labor Council, AFL-CIO
Sacramento Hispanic Chamber of Commerce
Sacramento Metropolitan Chamber of Commerce
Sacramento Rainbow Chamber of Commerce
Sacramento Region Community Foundation
Sacramento Steps Forward
United Way California Capital Region
3Fold Communications