Meeting Planner and Policies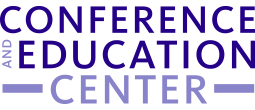 Meeting Planner Toolkit
Find our guidelines and details below for information you will need to plan a successful meeting at the Conference and Education Center.
Conference Center Policies
Hours of Operation
Meetings and events may take place Monday through Friday from 8:30 a.m. to 4:30 p.m. The center is closed Saturdays and Sundays.
Admission Fees
Organizations may charge admission or meeting fees only to cover direct meeting costs, such as materials and meals.
Sponsorships
Corporate sponsorships that cover direct event expenses must be approved by the Conference and Education Center Manager.
Media
Organizations that invite or expect news media at an event must notify the Conference and Education Center Manager at least two business days prior to the event.
Smoking
Smoking is not permitted anywhere on the property, including the parking lot.
Animals
Guide dogs or other assistance animals for people with disabilities are the only animals allowed in the conference center.
Equipment
Conference center staff can provide instruction on the operation of the conference center equipment, but staff is not available to operate equipment or resolve software issues. If additional assistance is needed, the conference center staff can recommend local consultants.
Supplies
Organizations may pin flip chart pages or other materials to the walls using resources provided, but may not write on these once they are on the walls.
Food and Beverage
Guests must place all used dishes on trays provided and must use coasters and placemats in the Capital and Natomas conference rooms.
Take a Video Tour of Sierra Health Foundation's Conference and Education Center
Catering
The Conference and Education Center Manager can recommend a number of caterers who are familiar with the facility and its requirements. Organizations may use a caterer of their choice with approval. The conference center does not have a separate inside dining area for large groups and the kitchen is not available for use by caterers or guests. A number of restaurants are within walking distance or a quick drive from the conference center.
Parking
Parking is very limited. Guests are encouraged to carpool or use alternative modes of transportation.
In the Sierra Health Foundation parking lot, please park ONLY in the parking spots marked "visitor" parking.
Off-site parking is available on River Plaza Drive, one block from the building, or along Garden Highway where indicated.