2023 Speaker Series: Community Wellness as the New Normal
Our 2023 Speaker Series focuses on how we will shift from surviving the COVID-19 pandemic to thriving. We have woven together programming that shows how climate change, mass incarceration, drugs, economic opportunity and racial justice are all interconnected and deeply impact community health. And, beyond the policy, how we might create lasting narrative and policy change in these areas. In the face of an uncertain budget and political landscape, it's critical that our collective action is intersectional and lasting.
What Food Security in Native American Communities Can Teach Us About Environmental Justice
October 3, 11:30 AM – 1:00 PM
Hosted at the Sierra Health Foundation
1321 Garden Hwy,
Sacramento CA 95833
For millennia, California Native communities could depend on the land and water for their livelihoods. Comprehensive cultural frameworks informed stewardship, harvesting, fishing, and hunting practices that kept Native communities food secure and in right relationship with the land.
Today, Native communities frequently face limited access to healthy and fresh food as they have limited access to the ecosystems that are important to their foodways. Colonialism has not only disrupted their relationship with ancestral lands and waters, but the cultural practices that ensured intergenerational transmission of knowledge since time immemorial. Food justice and environmental justice are intertwined in these communities, and the failure to redress historical inequities places families at risk.
First Nations Development Institute's California Tribal Fund seeks to fortify and revitalize traditional food systems in pursuit of food sovereignty. Join Rebecca Tortes, Director of the California Tribal Fund and Sabine Talaugon, Program Officer for a timely conversation about the unique assets that Native communities bring to building healthy, sustainable, and culturally relevant food systems.
First Nations has worked to strengthen American Indian economies for 43 years by investing in and creating innovative institutions and models that strengthen asset control and development for American Indian people and their communities.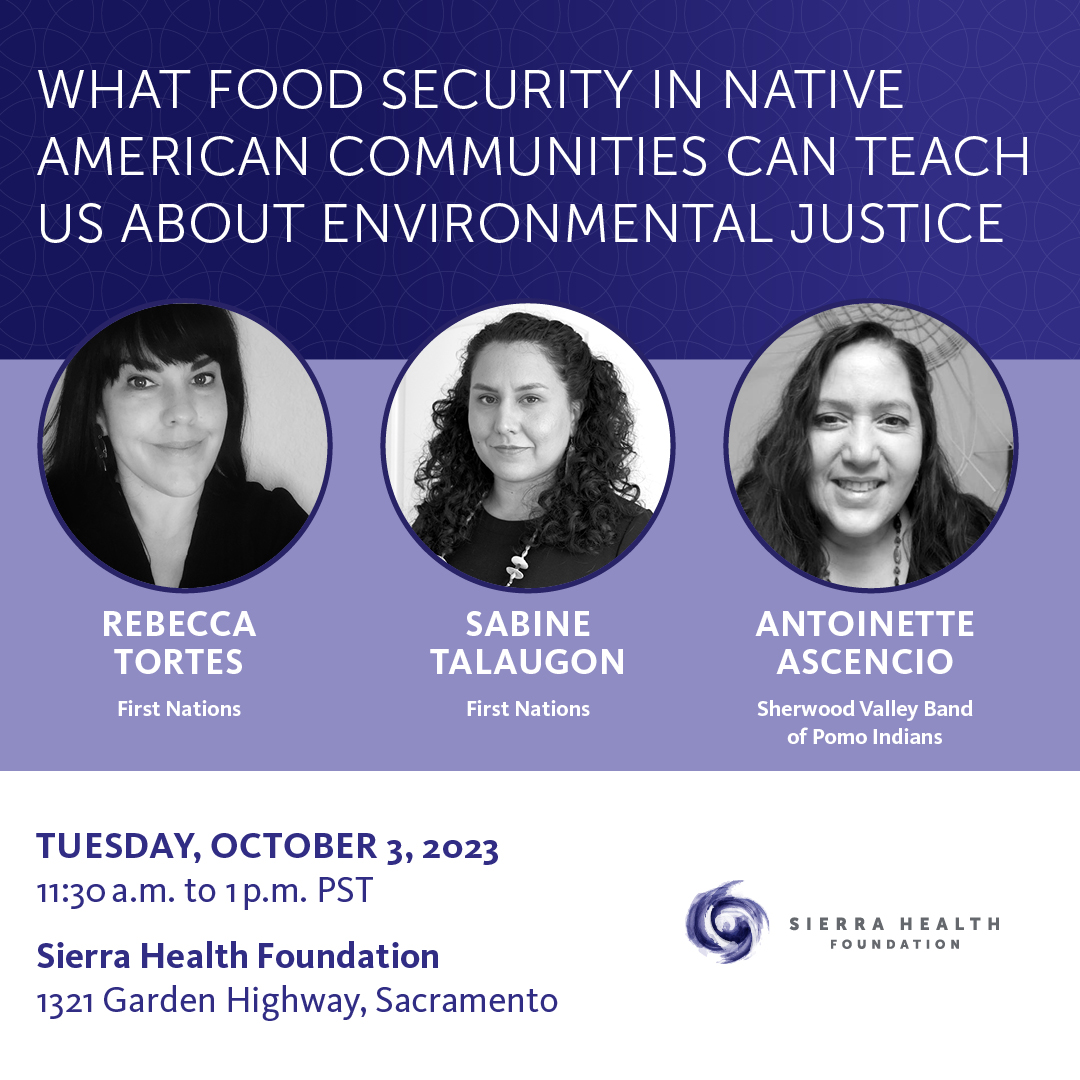 Unlocking Opportunity for Boys and Men of Color in Sacramento
May 31, 2023
Advocate, researcher and social change strategist Arnold L. Chandler shared the groundbreaking LifeCourse Framework to give us a better understanding of social problems that face boys and men of color. The framework is a foundation for developing interventions and solutions to improve life outcomes for people of color through policy and systems change, power-building and grassroots movements.
My Brother's Keeper Sacramento, a collaborative effort of local organizations, has been advancing change for boys and men of color since 2015. Led by Program Officer Ray Green, the collaborative's strategy leads unveiled the 2023–2026 Guide to Action — their strategy to unlock greater opportunities for Sacramento's boys and men of color.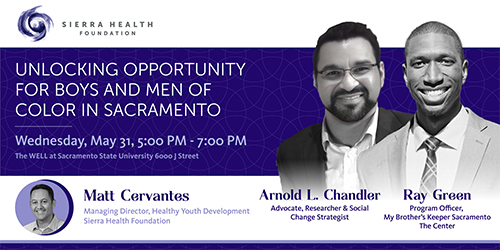 Past Is Prologue: Uncovering Our Past Holds The Key To A Better, More Inclusive Tomorrow
May 25, 2023
Communities across America are grappling with big questions about racial inequality. How do we effect lasting change? Civil rights attorney and author Michelle Coles discussed how social justice and systemic change must stem from a thorough understanding of our past.
The policies that were created during slavery continue to harm Black people today. But the Black statesmen and their allies who fought for racial equality after the Civil War left a profound legacy that positively impacts us right now. Ms. Coles draws on her deep knowledge of the criminal justice system and American history to help us solve the social ills that stem from our countries' past failures so that we can build the world we want to see.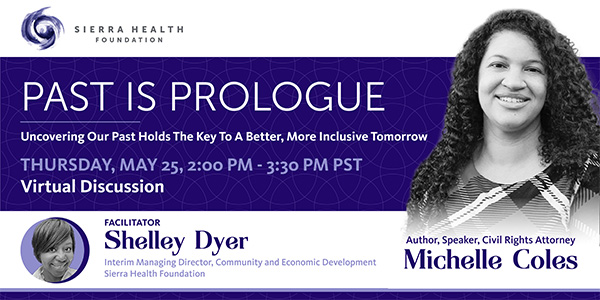 Cultivation of the Heart: Centering Hope for Youth Engaged in Gun Violence
February 9, 2023
Julius Thibodeaux-Hasan (author and director of Movement 4 Life) and Scott Budnick (founder of the Anti-Recidivism Coalition and CEO of 1Community) joined Chet P. Hewitt and our guests to reflect on the urgency of reforming the carceral system, the power of centering people with lived experience in finding solutions and the hope we must have for our youth.
Julius' memoir, Cultivation of the Heart, is about his path and how we can cultivate the hearts of our young people, especially those at the center of gun violence who are grappling with hurt and pain.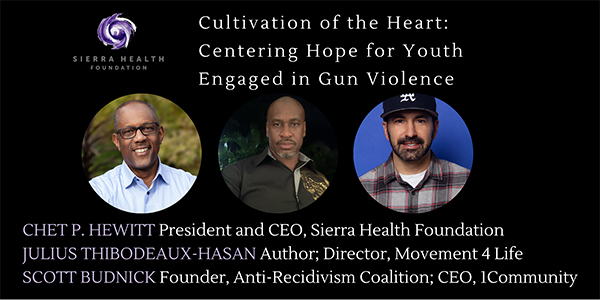 Countdown to Census 2020
Cuenta Conmigo / Count On Me
Arte Americas, Fresno
August 21, 2019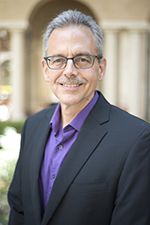 This timely Speaker Series program focused on the importance of full and fair San Joaquin Valley participation in Census 2020 and the role we each can play to include, support and protect everyone across the San Joaquin Valley to be counted.
We were pleased to welcome guest speaker Manuel Pastor, distinguished professor at University of Southern California and Director of USC's Program for Environmental and Regional Equity and Center for the Study of Immigrant Integration. Professor Pastor provided an overview of the economic, social and environmental influence of the census as a responsibility of and to the people — to be seen, counted and valued as individuals who make contributions to their community, to the state and to the country. He was joined by Dolores Huerta, civil rights advocate and president of the Dolores Huerta Foundation, for a conversation on the power of advocacy to ensure all are reached. A panel discussion followed with Pablo Rodriguez of Communities for a New California Education Fund, Deep Singh of Jakara Movement and Pastor Trena Turner of Faith in the Valley. Speakers and community members engaged in robust discussion about the courage required to be seen, heard and counted.
A Policy Conversation on
Family Caregiving for Older Adults
Sierra Health Foundation
October 10, 2018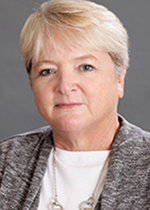 Kathleen Kelly, M.P.A., Executive Director of the Family Caregiver Alliance, joined us for our third Speaker Series program focusing on California's rapidly growing and increasingly diverse older adult population. Ms. Kelly provided an overview of policy opportunities and system reforms based on her extensive national experience and her participation on the California Task Force on Family Caregiving.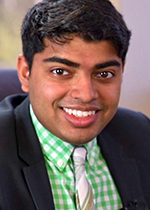 Social entrepreneur, biomedical researcher and Alzheimer's advocate Nihal Satyadev provided a millennial perspective on caregiving. Noticing a lack of youth advocacy for Alzheimer's disease, he founded The Youth Movement Against Alzheimer's, which provides opportunities for college and high school students to advocate, research and provide care for those battling the disease.
Access the Policy Conversation on Family Caregiving for Older Adults video (YouTube.com).
The Changing Portrait of California's Older Adults: Implications for Housing and How We Live
Sierra Health Foundation
May 24, 2018
Sierra Health Foundation and the California Commission on Aging co-sponsored this second Speaker Series event focused on California's rapidly growing and increasingly diverse older adult population. Local and state leaders discussed the emerging older adult profile, with a focus on disparities by race/ethnicity, and what it means for housing.
Presenters included Jennifer Ailshire, PhD, Assistant Professor, Leonard Davis School of Gerontology, University of Southern California; Mayor Christopher Cabaldon, City of West Sacramento; and Alicia H. Sebastian, Director of Housing and Community Development Programs, California Coalition for Rural Housing. Sharon Grewal, AICP, Director of APA CA Northern, moderated a dialogue with presenters, which included Assemblymember Ash Kalra, Chair, Aging and Long-Term Care Committee
Access The Changing Portrait of California's Older Adults video (YouTube.com).
Race, Racism and Otherness
A Conversation with john a. powell
Sierra Health Foundation
May 22, 2018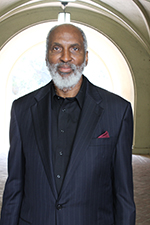 This discussion focused on solutions-based policy and advocacy approaches to systemic racism and othering. john was joined by a panel of diverse voices on the subjects of advocacy and social justice in the face of historical and modern displacement and marginalization — and opportunities for change. Sierra Health Foundation President and CEO Chet P. Hewitt moderated the panel, which included Morning Star Gali, the Director of Native Justice Now; Nicholas Hatten, Executive Director of San Joaquin Pride Center; and Virginia Knowlton Marcus, Director of Legal Advocacy at Disability Rights California.
powell is the Director of UC Berkeley's Haas Institute for a Fair and Inclusive Society and is an internationally recognized author and expert in the areas of civil rights and civil liberties and a wide range of issues including race, structural racialization, ethnicity, housing, poverty and democracy.
Embracing Demographic Change to Move California's Communities Forward: A Lifespan Perspective
Sierra Health Foundation
November 1, 2017
Sierra Health Foundation, in partnership with eight philanthropic partners and AARP California, hosted this forum to explore the implications of California's rapidly changing aging profile. Speakers included distinguished experts in demography, policy, legislation, planning and community development. The program addressed the social determinants of health and how disparities that racial and ethnic populations experience throughout their lifespan may impact their health, safety and living conditions. Participants discussed the Milken Institute's report Best Cities for Successful Aging and emerging strategies for improving community livability.
Access the Embracing Demographic Change video (YouTube.com).
News, Media and Politics: What is the New Normal?
Sierra Health Foundation
June 5, 2017
This Speaker Series event focused on the intersections of justice, news and politics and the implications for policymakers and citizens, bringing together national, state and local leaders to discuss the new realities, responsibilities and understandings of media and truth. Panelists representing print, radio, TV, social media and academic perspectives discussed the role of media in informing residents and as a check on those in power, the power and responsibility of news sources to shape politics, and the role of trust in the public's understanding of news and what constitutes news, media or the truth. Panelists included Linnea Edmeier, Managing Editor at Capital Public Radio; Trymaine Lee, national reporter and Pulitzer Prize-winning journalist with MSNBC/NBCNews; Thomas Peele, Pulitzer Prize-winning investigative journalist with Bay Area News Group and UC Berkeley School of Journalism lecturer; and Dyan Ruiz, co-founder of People Power Media.
Larke Nahme Huang, Ph.D.: Achieving Equity in Behavioral Health Care: Policy and Practice
Sierra Health Foundation
Oct. 7, 2016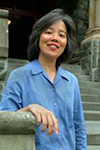 We were pleased to welcome Larke Nahme Huang, Ph.D., Director of the Office of Behavioral Health Equity at the Substance Abuse and Mental Health Services Administration, U.S. Department of Health and Human Services. Providing leadership on national policy for youth behavioral health care, Dr. Huang works with states and communities to eliminate systemic disparities and create equitable access for all families.
Dr. Huang joined in conversation with state, local and community leaders to discuss access inequity, mental health system barriers and opportunities, and new approaches that address the social, economic and environmental factors that influence health for youth and families. Panelists included Jahmal Miller, Deputy Director of the California Office of Health Equity; Ben Hudson, Jr., Executive Director of Gender Health Center; and Mariah Corder, Youth Advocate with California Youth Connection.
Access the Achieving Equity in Behavioral Health Care video (YouTube.com).
Steve Phillips: Harnessing the Power of the New American Majority
Sierra Health Foundation
May 25, 2016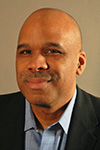 Steve Phillips, author of Brown is the New White, joined us for this event to discuss how people of color and progressive whites add up to a new majority of voters and what this means for U.S. politics and policy. A national political leader, civil rights lawyer and senior fellow at the Center for American Progress, Mr. Phillips uses research and demographic data to challenge the political practice of chasing the white swing voter and ignoring communities of color, which now make up the political majority and have the numbers to bring issues of importance to the main political stage.
Mr. Phillips discussed disenfranchised voters, harnessing the power of this New American Majority, and how to best use that power to build coalitions and make real change. He was joined by a panel, including Kathay Feng of California Common Cause, Phillip Rodriguez of City Projects, and Mindy Romero of the California Civic Engagement Project at the UC Davis Center for Regional Change, to discuss subjects of civic engagement, barriers to voting, systems change and grassroots community building. Jose Hermocillo of APCO Worldwide, and a Sierra Health Foundation board member, moderated the panel.
Access the Harnessing the Power of the New American Majority video (YouTube.com).
Daniel Macallair: After the Doors Were Locked
Sierra Health Foundation
Feb. 24, 2016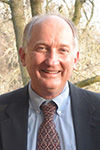 We were honored to host a book launch for colleague Daniel Macallair, Executive Director and Co-founder of the Center on Juvenile and Criminal Justice. His book, After the Doors Were Locked: A History of Youth Corrections in California and the Origins of 21st Century Reform, looks at what history can teach about modern-day youth corrections reforms. Drawing from his nearly 30 years of experience and research, Mr. Macallair shares the compelling and incisive story about the nation's largest youth corrections system and the daily reality of institutional life.
The event included a discussion with Mr. Macallair and Sierra Health Foundation President and CEO Chet Hewitt about the history of congregate institutions and the repeated efforts to reform the way youth were treated in those institutions. They also took part in a panel discussion, which included Samuel Nunez, Executive Director of Fathers & Families of San Joaquin, and juvenile justice advocate Ruben Mesta, who both shared their experiences in the juvenile justice system, as well as their suggestions for reform. Takarra Johnson from Sacramento Area Youth Speaks opened the event with a moving spoken word performance about the realities of juvenile justice.
Learn more about After the Doors Were Locked on the Center on Juvenile and Criminal Justice website (CJCJ.org).
Dr. Elizabeth Cauffman: Adolescent Brain Development and the Juvenile Justice System
Sierra Health Foundation
Sept. 10, 2015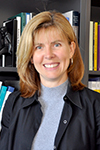 A professor and chancellor's fellow in the Department of Psychology and Social Behavior in the School of Ecology at the University of California, Irvine, Dr. Elizabeth Cauffman explained how cognitive and emotional maturation follow different developmental trajectories, and how risky behavior, including delinquency, can be seen as a consequence of the differing timetables of cognitive and emotional development. She also presented preliminary findings from her research studies entitled, Pathways and Crossroads, which examine the impact of the juvenile justice system on development and behavior.
The event included introductory remarks from David Gordon, Sacramento County Office of Education Superintendent and Sierra Health Foundation Board Chair. Brandon Harrison from Fathers and Families of San Joaquin presented a short film that he and other youth produced as part of the Stockton Youth Film Project. Participants also heard from a panel of local, state and national leaders, including Dr. Cauffman; Alex Johnson, Executive Director at the Children's Defense Fund–California; Frankie Guzman, Juvenile Justice Attorney at the National Center for Youth Law; Daniel Hahn, Roseville Chief of Police; and Judge Donna Quigley Groman, Supervising Judge in the Los Angeles Juvenile Delinquency Division.
Dr. John Rich: Trauma and Violence in the Lives of Young African-American Men
Sierra Health Foundation
April 9, 2015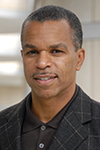 A professor at the Drexel University School of Public Health and a leader in the field of public health, Dr. Rich presented on trauma and violence in the lives of young African-American men. His presentation included stories of young people affected by adversity, violence and trauma. Participants learned about their experiences through powerful videos produced by young men and women who are part of Healing Hurt People, a program of Drexel's Center for Nonviolence and Social Justice in the School of Public Health and College of Medicine. Through their stories, Dr. Rich suggested new ways to think about the connection between trauma, the social determinants of health and problems like urban violence. He also talked about the need to bring innovation to programs and policies by designing them with those most affected by violence. The event included well-received spoken word performances by two members of Sacramento Area Youth Speaks, Shomari "Issa" Jackson and Andreas "Dre-T" Tillman.
Access the Trauma and Violence in the Lives of Young African-American Men video (YouTube.com).
Erahm Christopher: Using Creativity to Heal and Empower Youth
Sierra Health Foundation
Sept. 25, 2014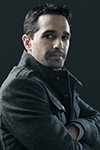 We welcomed inspiring filmmaker Erahm Christopher, who shared his experiences of using film and creativity to heal and empower youth. For many years, Erahm has worked with students to create the TEEN TRUTH educational film series, which has reached more than six million youth. Filmed by students, the series addresses topics such as bullying, body image and drugs, with teens speaking truthfully about their experiences. The films, which are shown at schools and other venues nationwide, are created to educate youth and adults about issues, but also to empower them to be the difference at their schools and in their communities. Learn more about Erahm and the film series on the TEEN TRUTH website (TeenTruth.net).