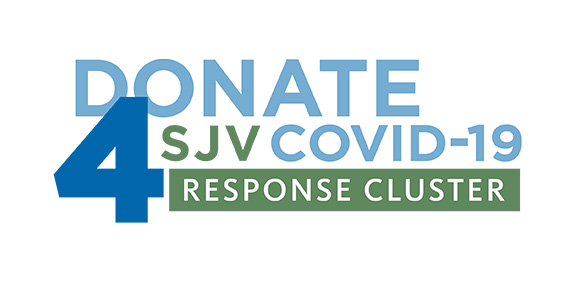 Total pledged amounts and donations = $7,488,722
Total amount distributed = $7,126,617
San Joaquin Valley Health Fund COVID-19 Response Cluster Awards Phase 2
Binational of Central California (Fiscal Sponsor: Central Valley Resource Service Corps)
Fresno County
$25,000
To support farmworkers with immediate needs, such as rent relief assistance, and outreach and education.
California Farmworker Foundation
Kern, Fresno and Tulare counties
$50,000
To support farmworkers by strategically investing in initiatives that support their immediate needs, such as rent relief assistance, and outreach and education.
Cambridge Academies
Stanislaus County
$50,000
To obtain perishable and non-perishable food items for the HOST House (homeless men) and Naomi's House (homeless women) in Patterson and the surrounding West Stanislaus County COVID-19-impacted community members.
Center for Human Services
Stanislaus County
$25,000
To provide emergency housing (hotels), personal protective equipment, sanitation supplies, food and clothing, rental assistance, and assistance with other living expenses (household/hygiene) for youth on the streets and unstably housed.
Centro de Unidad Popular Benito Juarez (Fiscal Sponsor: United Way of Kern)
Kern County
$25,000
To assist and identify affected individuals in the marginalized Indigenous and low-income communities through COVID-19 education, awareness and outreach.
Every Neighborhood Partnership
Fresno County
$50,000
To help with the in-person Student Learning Hubs, Food Distributions, Digital Parent Literacy Support, and Virtual Literacy Support that ENP is conducting in response to COVID-19.
ExpresArte Cultural Wellness Collective (Fiscal Sponsor: Organization for the Legal Advancement of Raza)
Fresno and Tulare counties
$50,000
To support the provision of culturally competent mental health services to vulnerable communities by supporting and connecting therapists of color in the San Joaquin Valley to meet the mental health needs of Black, Indigenous and POC community members.
Family Services of Tulare County
Tulare County
$50,000
To implement a robust emergency assistance project to address the ongoing consequences of the COVID-19 pandemic on the residents of the underserved Goshen community.
FoodLink for Tulare County
Tulare County
$50,000
To partner with local organizations and the Wukchumni Tribal Council to support COVID-19 relief through addressing food insecurity by providing immediate support for home and community gardens, small local farms and farmers of color, and the development and implementation of pilot programming for the Tulare County Agroecology Center.
Healthy House Within a MATCH Coalition
Merced County
$50,000
To fund a food distribution project, including fresh produce, for underserved families (including LEP, African-Americans, elderly and refugees/immigrants) who disproportionately suffer from COVID-19-related health and income disparities.
Hmong Culture Camp
Merced County
$25,000
To provide personal protective equipment, translated information and resources, such as diapers, milk and formula for families struggling to make ends meet in Merced during COVID-19.
Insight Garden Program
San Joaquin Valley
$50,000
To provide people in San Joaquin Valley prisons with essential personal protective equipment and access to IGP's transformative health and environmental education curriculum and to provide people in reentry with immediate services upon release to ensure their safe and successful transition back into the community during the COVID-19 pandemic.
Laotian American Community of Fresno
San Joaquin Valley
$25,000
To identify and address emergent needs in the Laotian community as it relates to immediate basic needs, childcare, elderly care, mental/behavioral health care and suicide prevention/intervention.
Poverello House
Fresno County
$50,000
To provide COVID-19 emergency sheltering and food assistance.
Power California – 99Rootz
Merced and Fresno counties
$50,000
To provide direct relief assistance to vulnerable communities through a mutual aid network to support the Roots Resilience Fund for the emergency needs of youth organizers, and to provide awareness and education support to vulnerable communities on the ongoing threat of COVID-19.
Resource for Independence, Central Valley
Fresno, Kings, Madera, Merced and Tulare counties
$50,000
To implement an outreach and referral program aimed at reaching persons with disabilities throughout the Valley to improve mental health, increase positive health outcomes, decrease isolation, and provide vital mental and medical health information and referrals during the COVID-19 pandemic.
Root & Rebound
San Joaquin Valley
$50,000
To increase the capacity of the Fresno team to meet the increased needs of the justice system-impacted women and their children who make up the FRWEI program, and to provide legal, social service and employment support to those newly released from prison and jail to San Joaquin Valley communities because of COVID-19, who have had little time to prepare for their reentry.