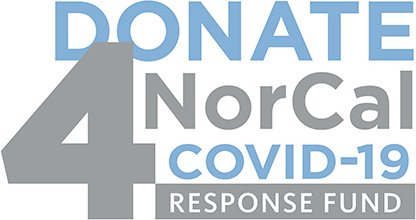 Total pledged amounts and donations = $1,847,067
Total amount distributed = $1,524,017
Northern California COVID-19 Response Fund
Over the coming weeks and months, everyone in Northern California will continue to experience the impact of the COVID-19 pandemic. Yet, what we have learned confirms that the health, economic, educational and social impacts will be felt most acutely by the most vulnerable populations and the organizations that serve them. This includes older adults, low-wage workers and their families, communities of color including Tribal communities, people who are living in poverty and/or rural isolation, under- and uninsured, unemployed and/or non-English-proficient residents and the nonprofit organizations who work with them.
The Northern California COVID-19 Response Fund deploys grants to nonprofit organizations in our network as they work to meet needs in disproportionately impacted communities. We are accepting applications from our nonprofit partners by invitation only. We disburse additional funds as pledged funds are received.
Northern California COVID-19 Response Fund project descriptions
"We recently distributed 100 grocery boxes, 10 boxes of masks and sanitizers and 11 laptops to the communities of Northern Wintu and Fort Bidwell. Grocery boxes were provided to Elders within the
community who have been particularly affected by COVID-19 due to job loss or other challenges."

-California Indian Manpower Consortium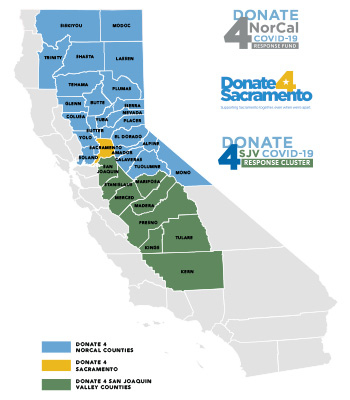 The Center at Sierra Health Foundation is raising private and philanthropic contributions to provide support to those most impacted by the COVID-19 crisis. Initial contributions from Sierra Health Foundation and The California Wellness Foundation launched the Northern California COVID-19 Response Fund. We will work with other funder partners, community organizations and private contributors to increase the fund and deploy needed support to Northern California nonprofits that work directly with vulnerable community members in the counties of Alpine, Amador, Butte, Calaveras, Colusa, El Dorado, Glenn, Lassen, Modoc, Mono, Nevada, Placer, Plumas, Shasta, Sierra, Siskiyou, Solano, Sutter, Tehama, Trinity, Tuolumne, Yolo and Yuba. View a Donate4 map enlargement (.pdf)
The mission of the Response Fund is to ensure vulnerable families, individuals and the nonprofits serving them receive assistance for essential supplies, food, rent, utilities and other basic needs, including access to health and human services, programs and protections available under local, state and federal law.
Please donate generously. You may choose to direct your contribution in the following ways:
Promote Family Economic Stability: Flexible financial support for families to
address stress and the negative economic impact related to job loss and/or the reduction of work hours.
Support for Vulnerable Children and Families: Financial support for families to address essential needs, including food insecurity, gas for necessary travel, shelter and educational supports to address the digital divide for students out of school, such as Internet access and technology.
Support Services for Older Adults: Financial support for older populations to
address basic needs like food, shelter and medical/health needs.
Services for Those Who are Unhoused and Those in Over-Crowded Housing: Services through area nonprofits, such as emergency shelters, hygiene stations and other solutions to meet their immediate needs.
Nonprofit Flexible Support: Flexible funding that will rapidly
deploy to nonprofits working with communities impacted by COVID-19 to support continuity of critical services.
If you would like to mail a check:
Make the check out to Sierra Health Foundation: Center for Health Program Management
Write Donate4NorCal in the memo line
Optional: Complete this donation form (.pdf) to identify how your donation will be applied and include with your check
Mail to:
The Center at Sierra Health Foundation
c/o Donate4NorCal
1321 Garden Highway
Sacramento, CA 95833
Sierra Health Foundation: Center for Health Program Management is a 501(c)(3) tax-exempt organization with EIN number 45-5282243. Your donation may qualify for an income tax deduction in accordance with federal and/or state income tax laws. Please consult with your tax adviser.
Founding Contributors:
California Health Care Foundation
Sierra Health Foundation
Stuart Foundation
The California Wellness Foundation
Anonymous Donor
Community Foundation Response Funds:
El Dorado Community Foundation
North Valley Community Foundation
Placer Community Foundation
Sacramento Region Community Foundation
Shasta Regional Community Foundation COVID-19 Relief Fund
Yolo Community Foundation